Small Town Charm... Big City Opportunities
In 1952, the Town of Pantego was incorporated in North Central Texas about ten miles southeast of the Tarrant County Courthouse in downtown Fort Worth. The Town is surrounded on three sides by Arlington and on the south by Dalworthington Gardens. Bowen serves as the major north-south thoroughfare and a branch of Rush Creek meanders through the Town, enhancing the natural beauty of Bicentennial Park. The primary land use is moderate to large lot single-family homes with secondary uses including multi-family, retail, office, and industrial.
Despite its location in the heart of the nation's fourth largest metro area — the Dallas-Fort Worth (DFW) Metroplex — a land area of just one square mile means that Pantego will forever provide that small-town feel. Along Park Row Drive and Pioneer Parkway (Spur 303), you'll find dozens of locally-owned boutiques, shops, and restaurants. Residents enjoy events throughout the year hosted by community organizations, local business owners, and those who graciously volunteer their time and talents to our advisory boards.
Never miss another event... subscribe today!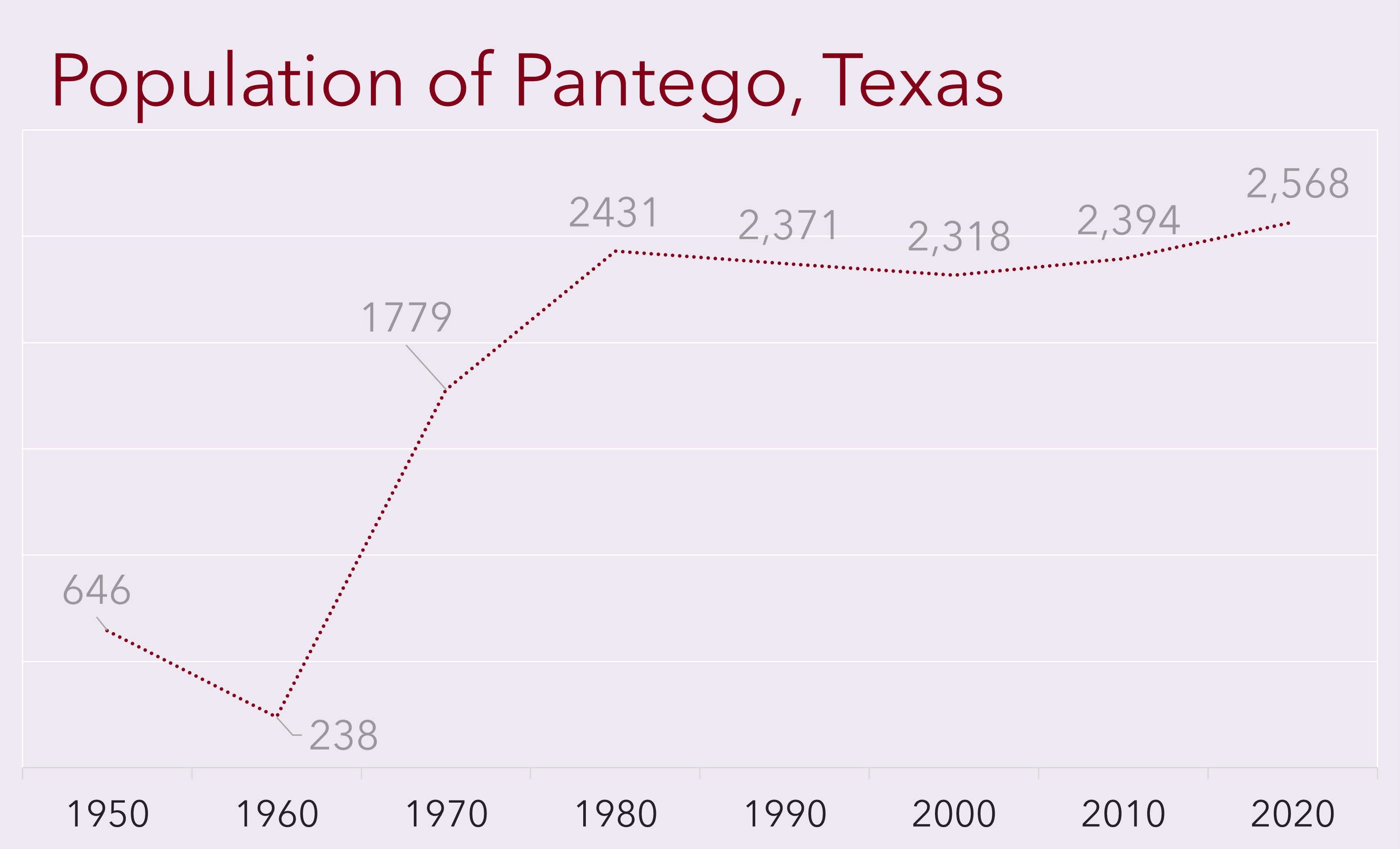 Pantego strives to be a premier community in which to live, work, and retire while maintaining a small-town atmosphere and providing quality public services in a cost-effective manner. The current population is 2,568. (2020 CENSUS)
Above all, Council remains committed to meeting the evolving needs of residents and businesses while also preserving Pantego's long-standing reputation as a respite from the hectic pace of the Metroplex. The Town has grown by about 10% since 1990 (compared to the DFW region, which has almost doubled in population), yet our central location provides access to a nearly endless variety of culture and entertainment opportunities. 
Town Hall is less than ten miles from AT&T Stadium (home of the Dallas Cowboys), Globe Life Field (home of the Texas Rangers), Texas Live!, Six Flags, and Hurricane Harbor. Or, a thirty-minute drive to Fort Worth's historic Stockyards, downtown Dallas, or DFW International Airport. Professional sports organizations in nearby Dallas include the NBA's Dallas Mavericks, NHL's Dallas Stars, MLS's FC Dallas, and the WNBA's Dallas Wings. There, you'll also find the 60-acre Dallas Arts District – the largest downtown art district in the nation, featuring world-class museums, galleries, opera houses, theater venues, and ballet and symphony performances. DFW also features dozens of lakes and golf courses and serves as a shopping and fashion mecca with 25 major malls, 30 antique districts, and countless boutiques and restaurants.
History and Form of Government
Pantego was first incorporated as a Village in 1952. Today, it is a Type A General Law Municipality governed by a Town Council comprised of a Mayor and five Councilmembers who are elected at-large for staggered two-year terms on the first Saturday of each May. The Mayor and Places 4 and 5 are elected in odd-numbered years; and Places 1, 2, and 3 in even-numbered years. The Council elects one member to serve each year as Mayor Pro Tem. This role presides over meetings or attends events in the absence of the Mayor. All members of the Council and their various advisory boards and commissions serve without compensation. 
In 1980, the Town adopted a Council-Manager form of government – a structure similar to that of private corporations. The shareholders (residents) elect a board of directors (the Council) who then hire a President or CEO (the City Manager) to administer daily affairs. 
The Council serves as the legislative body responsible for setting policies, approving an annual budget, setting the property tax rate, and determining the scope and function of our local government. The Council also enacts ordinances, resolutions, and regulations, issues debt necessary to support capital projects, and appoints the City Manager, City Secretary, City Attorney, Municipal Judge, and members of various statutory and advisory boards and commissions. Town Council holds regular meetings on the fourth Monday of each month at 6:30 p.m., with special meetings called as needed. The public is encouraged to attend any meeting of the Council or the boards and commissions. Meeting agendas are posted on the bulletin board outside Town Hall (1614 S Bowen Road) and at townofpantego.com/agendas at least seventy-two (72) hours prior.
The City Manager serves as the chief administrative officer and is responsible for the operationalization of those policies and directives set by the Council. The City Manager ensures that all applicable laws and ordinances are uniformly enforced, appoints and supervises public safety chiefs and departmental directors, and performs countless other vital administrative functions. 
Under the Council's authority, the Town of Pantego provides a full range of municipal services including general administration, public safety (police, fire, and EMS), streets, parks, animal control, planning and zoning, code enforcement, municipal court, stormwater management, utility billing, and water and wastewater utilities.
What is a General Law Municipality?
General Law cities are smaller – often with a population of less than 5,000 – and their powers and duties are limited to what the state authorizes or permits them to do. While a Home Rule City may do anything authorized by its charter that is not specifically prohibited or preempted by the Texas Constitution or state or federal law, general law municipalities like Pantego may only exercise those powers and duties specifically granted or implied by statute. This designation was created in 1858, with much of the original language still appearing in the Local Government Code today. 
General law cities operate under the aldermanic or commission form of government. The term "alderman" is often used interchangeably with the term Councilmember. Because Pantego is not divided into wards or precincts, the Council consists of a Mayor and five Councilmembers elected at large. A quorum is a majority (three) for general business or two-thirds for special meetings or those concerning taxation. The Mayor does not count towards a quorum and does not vote, except to break a tie.
Demographics
Pantego has a population of 2,568, with 1,221 households and 705 families. The racial makeup of the community was 89.35% White, 4.56% African American, 1.01% Asian, 1.13% from other races, and 3.95% from two or more races. The median age was 51.7 years. The average household income is $81,563, with a poverty rate of 8.34% and an unemployment rate of 8.9%. 29.4% of the population is over 65 years of age, 41.6% of the households earn more than $75,000, and 41.4% have a bachelor's degree or higher.
Education
Pantego is within driving distance of all of the DFW Metroplex, which contains a number of colleges and universities including the University of Texas at Arlington (UTA) and the Tarrant County College system. 
In Texas, school district boundaries do not always follow city or county boundaries because all aspects of the school district government apparatus are operated separately from city and county government. No school district was ever established in Pantego. Pantego has been served by the Arlington Independent School District (AISD), since the mid-20th Century and is zoned to Hill Elementary, Bailey Junior High, and Arlington High.
Pantego Christian Academy (PCA) is a local private school with facilities within both Pantego and Arlington. Since 2008, a 57,000-square-foot building on West Park Row Drive has been utilized as their high school campus. 
Labor Force
The Town of Pantego benefits from the total labor force in the Metroplex being more than 2.3 million. An unemployment rate that is consistently below the national and state average illustrates the work ethic within the community. Texas is a "right-to-work" and "at-will" employment state, benefiting business operations and bringing about minimum union activity and work stoppages. Occupations for Pantego workers are:
Management, Business, Sciences, and Arts Occupations




46.0%




Service Occupations

9.1%




Sales and Office Occupations

 

28.6%




Natural Resources, Construction, and Maintenance Occupations




4.8%




Production, Transportation, and Material Moving Occupations




11.6%