Located at 3206 Smith Barry Road, Bicentennial Park is open from 8:00 a.m. to 10:00 p.m., daily. The seasonal splash pad is open daily from 9:00 a.m. to 8:00 p.m., from Memorial Day to Labor Day. Alcoholic beverages are prohibited within the park.
Bicentennial Park: "Built in the Spirit of Freedom"
Playground with artificial turf
Walking trails and stretching zones
Seasonal splash pad
Open daily from 9:00 a.m. to 8:00 p.m., from Memorial Day to Labor Day
Two pavilions (north and south) and a gazebo
Available for reservation by visiting Town Hall (see below)
Sand volleyball court
Wading pond with bronze statues
Butterfly garden and Texas native plants garden
Grills and picnic tables
Restrooms and fido-friendly water fountains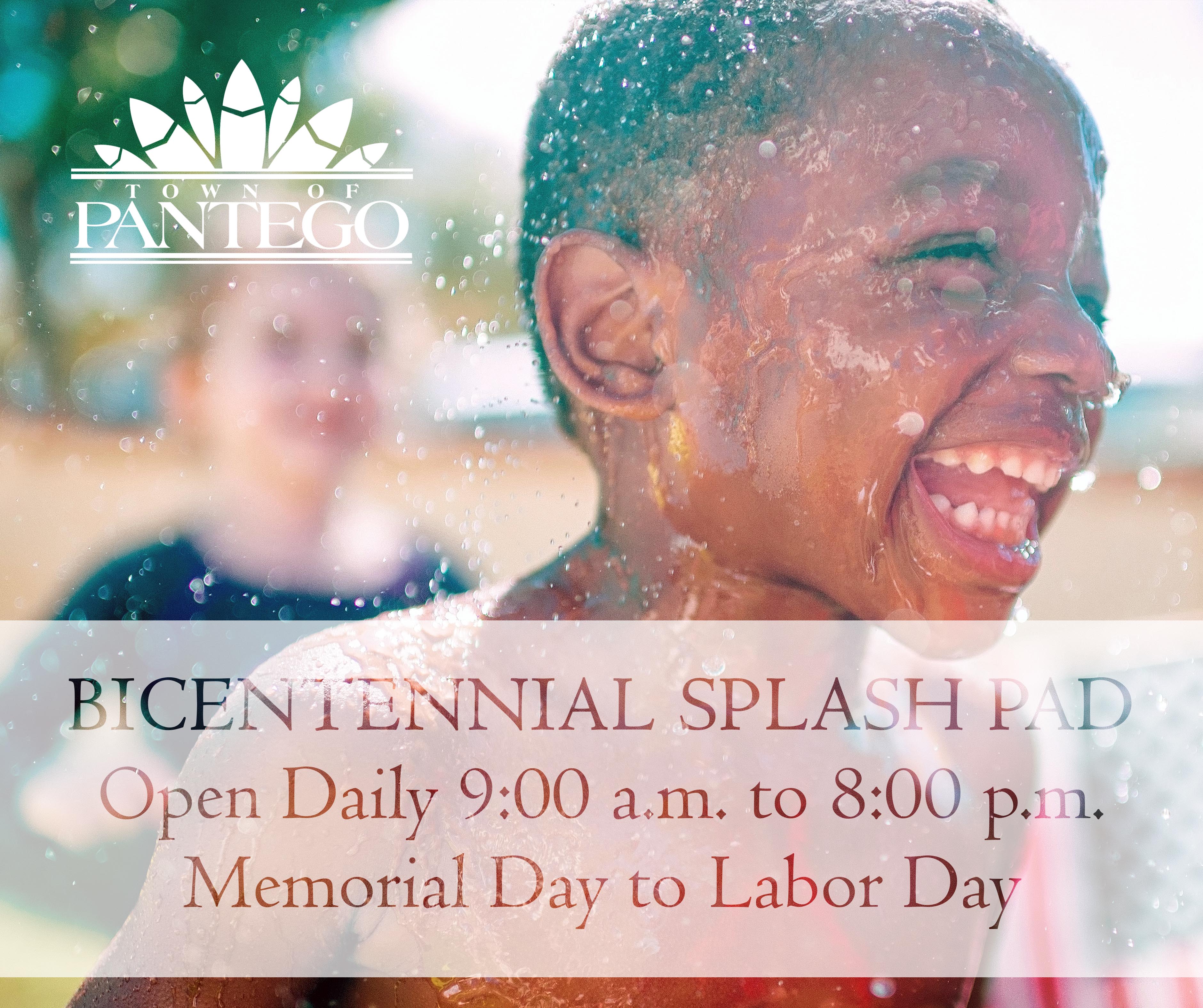 Splash Pad Water Safety
In an effort to conserve a valuable natural resource, the water utilized by the splash pad is recirculated within a closed circuit system that filters, disinfects, and recycles the water. Recaptured water is stored in an underground holding tank that constantly monitors and adjusts the chlorine and pH levels in the water, adding treatment chemicals as needed to keep the water within the State's recommended ranges. As a second layer of protection, on days when the splash pad is operational, at least twice daily the Public Works staff manually checks the chlorine, pH, and cyanuric acid levels in the water, ensures that treatment chemicals are readily available within the system, and conducts an overall safety check on the equipment. Because the splash pad water is recaptured and filtered, please do not use water balloons in this area as the small scraps of rubber can clog the filter and lead to downtime for maintenance.
Pavilion and Gazebo Reservations
Reservations are only taken in person at Town Hall (1614 S Bowen Road), and payments accepted are cash, check, and credit cards (except American Express). Though we can not take reservations over the phone, we are glad to check the availability for certain dates. Refunds are not given. However, you may reschedule for a later date, if available. If you have any questions about Bicentennial, please call 817-617-3700. Reservation forms are linked at the bottom of this page.
Either of the pavilions (north or south) and the gazebo can be reserved in six-hour increments, during park hours. Rental only includes the covered area. Of course, you can utilize the playground, splash pad, and all other park facilities or features, but the general public can as well. A completed reservation agreement (linked below) and the appropriate fee must be submitted before your date will be held. Staff will post a "reserved" notice for the time and location of all reservations.

The north and south pavilions each have six non-movable tables that are six feet long. For any items or tables that are movable, it is the renter's responsibility to arrange them as they wish. If you plan to have a bounce house at your event, you will need to provide a generator as the electrical system at the park will not suffice. No petting zoos or alcoholic beverages are allowed. Please utilize the many trash receptacles provided to clean up after your party. 
Facility Reservation Fees
(subject to change)




Pantego
Resident 

Non-
Residents 

North Pavilion 

$25.00

$60.00

South Pavilion 

$25.00

$60.00

Gazebo 

$20.00

$40.00
---
Farmer's Market
Every third Saturday, Bicentennial Park hosts the Arlington Foodies Farmer's Market from 5:00 to 8:00 p.m.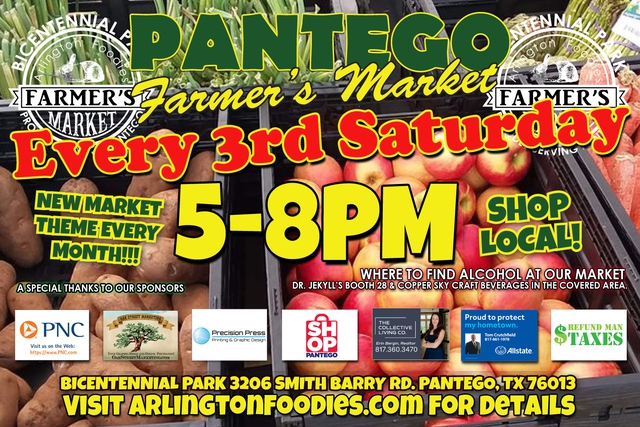 ---
History of the Park
1976  |  The citizens of the Town of Pantego celebrated our nation's bicentennial by creating a community park at the intersection of Smith Barry Road and Nora Lane that featured a playground, walking trail, and a community center named in honor of Jurdiss Rohne (wife of then-Mayor Wayne Rohne).
1993   |  The voters of Pantego approved a half-cent sales tax which funded a new police station, the remodeling of city hall, and further development of Bicentennial Park. These funds, along with Community Development Block Grant (CDBG) funding, were used to purchase adjoining property along the south side of Smith Barry Road. Other improvements included the installation of pedestrian bridges and gabion baskets (for erosion control) along the meandering creek.
2013  |  The Town Council adopted a Park Master Plan, based on resident input, to serve as a blueprint for further development and expanded uses at Bicentennial. 
2017  |  The Town received a Local Parks Grant from Texas Parks and Wildlife (TPWD), which funded the installation of a splash pad, sand volleyball court, and two demonstration gardens — a butterfly garden and another featuring Texas Native Plants. 
TODAY  |  Because Bicentennial Park has served as the center of our community for decades, the Town Council and the Pantego Economic Development Corporation (PEDC) Board have a longstanding commitment to ensuring that this facility provides high-quality recreation that meets the unique needs of residents of all ages. Community Relations Board (CRB) events like "Eggcellent" Easter, Movies in the Park, Trunk-or-Treat, and "A Pantego Christmas" are all held here.
---