Trash (Solid Waste) Service
Garbage collection is provided under contract by Republic Services. Trash is collected on Tuesdays and Fridays (excluding holidays). If service falls on a holiday, garbage will be picked up on the next regularly-scheduled collection day. Bagged trash should be placed on the curb no later than 7:00 a.m. on collection day. Please do not put trash out the night before.

Tree limbs and brush must be neatly stacked in bundles not exceeding four (4) feet in length or fifty (50) pounds of total weight. The solid waste company can accommodate two to three bundles per pick-up. Grass clippings will not be collected. Please mulch clippings back onto your lawn. If these are blown into the street, you could be fined per Town Code.

Curbside Recycling
Recycling is collected on Tuesdays (excluding holidays). By 7:00 a.m. on collection day, place approved items (see list below) in your green recycle bin at the curb or in your alley for pickup. Please do not set out newspapers if it is raining or rain is in the forecast.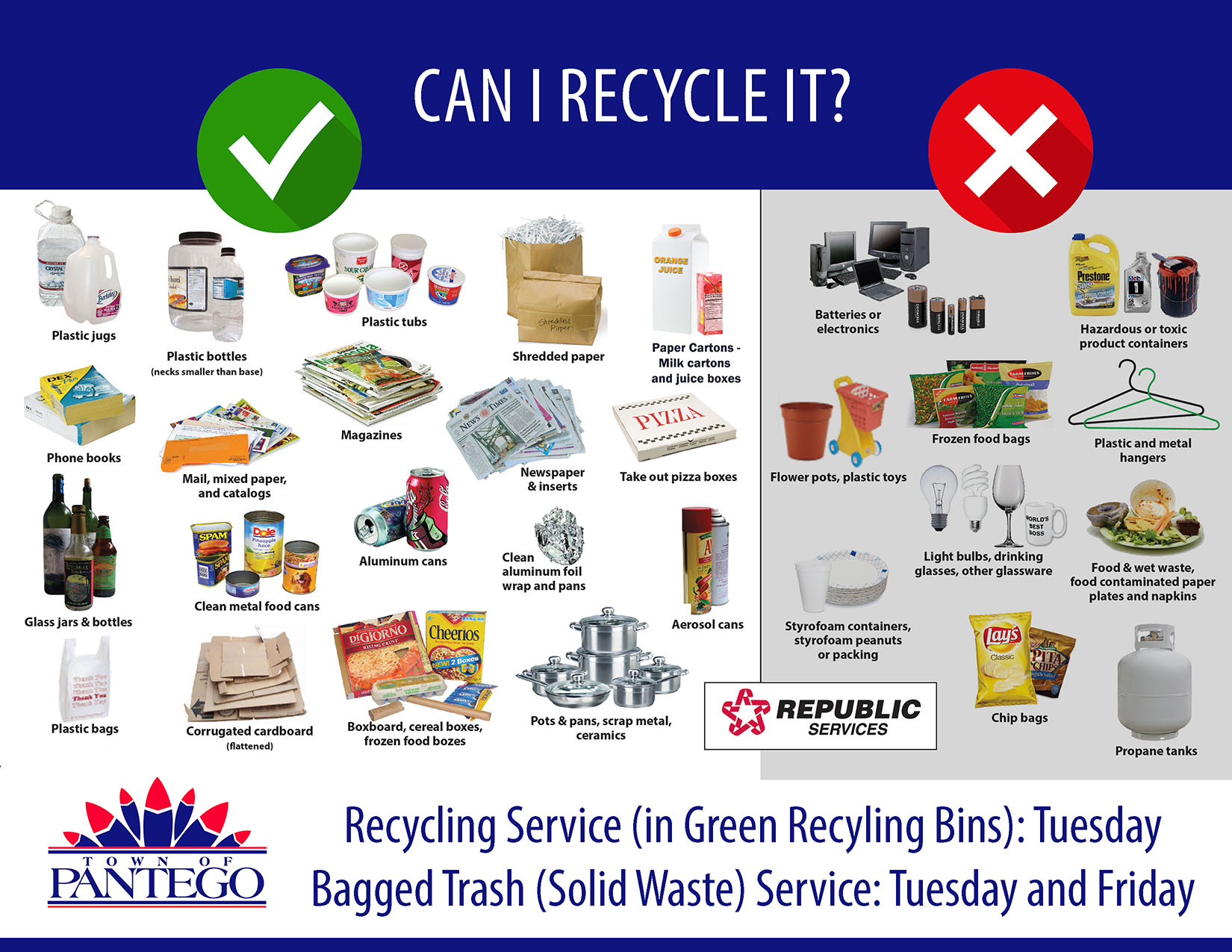 What Can I Recycle in the Green Bin?
NOTE:  All containers must be rinsed
all colors of unbroken glass bottles and jars (discard caps and lids)
flattened plastic bottles necks smaller than base (unless they previously contained hazardous materials)
plastic jugs or tubs
shredded paper, dry newspapers (including "slicks"),

phone books

 
paper cartons, boxboard, cereal boxes, and frozen food boxes
mail (including catalogs and magazines)
flattened corrugated cardboard including clean pizza boxes
crimped steel/tin food cans (squeeze top closed if lids are inside)
flattened aluminum drink cans
clean aluminum foil wrap and pans
plastic bags (tie them in a knot to prevent them from flying away)
aerosol cans
pots, pans, scrap metal, ceramics
Do NOT Place These in the Green Recycling Bins:
batteries or electronics
styrofoam
hazardous or toxic product containers
flower pots, plastic toys
frozen Food Bags
plastic or metal hangers
lightbulbs, drinking glasses, and other glassware
food, wet waste, food-contaminated paper plates or napkins
chip bags
propane tanks

Household Hazardous Waste and Chemicals
Residents of Pantego can drop off household hazardous waste at the City of Fort Worth's Environmental Collection Center. You must first obtain a voucher from Town Hall (1614 S Bowen Road) in the amount of $50.00, which allows one trip per address per year. The Town also offers free hazardous waste drop-off at Town Hall during clean-up events. Check the calendar for the next date!