T

Optimize Your Irrigation System
The average American family uses 320 gallons of water per day, about 30 percent of which is devoted to outdoor uses. Nationwide, this adds up to nearly 9 billion gallons per day. It is estimated that as much as 50 percent of water used for irrigation is wasted due to evaporation, wind, or runoff. Simple changes can save water and money: 
Program your controller to take advantage of features like rain skips
Don't water between 10:00 a.m. and 6:00 p.m. when more water will evaporate
Adjust sprinklers to only spray landscaped areas and not on concrete, fencing, or walls
Decrease or stop watering when grass is dormant during cooler months
Adjust for changing rainfall and temperatures
Use the cycle and soak method (more information below)
Evaluate and repair your sprinkler heads regularly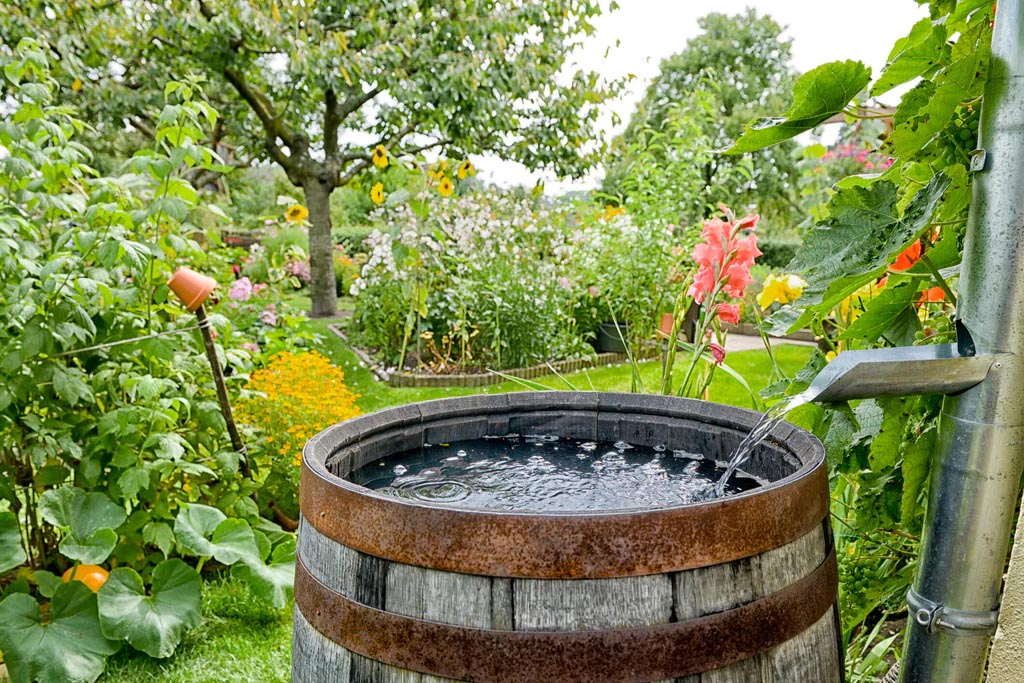 Rainwater Harvesting
North American tap water has, on average, 18 to 41 mg of salts per liter. Because salinity levels are higher in this portion of the state and because the region has quite a lot of clay soils, which hold salt better, gardeners should aim to use rainwater whenever possible and choose those plants that are more resistant to salt. Rainwater harvesting and the use of more salt-tolerant plants are two methods to becoming a successful gardener in Pantego. Scroll down to view plants that do well in Pantego or download our Gardening Guide (PDF).
Rainwater harvesting is an innovative approach to capturing free water that is free of salts and other minerals that can harm root growth. As rainwater percolates into the soil, it forces salts down and away from root zones, allowing roots to grow better and making plants more drought-tolerant. A house with a 1,000-square-foot roof could "harvest" 600 gallons of rainwater from a one-inch rainfall. 
By capturing, diverting, and storing rainwater for later use in the home landscape saves you money by reducing your water bills, reduces demand on the municipal water supply, makes efficient use of a valuable resource, and reduces flooding, erosion, and contamination of surface water with sediments, fertilizers and pesticides in rainfall run-off.

Clay-based soils often found in our region have a much slower absorption rate. Water applied past the first six minutes of a cycle usually becomes runoff. The Cycle and Soak Method recommends running sprinkler zones for about five minutes each and then allowing about thirty minutes for the water to absorb into the ground before cycling again. Not only can this method help you to get the most value from the water used on your lawn, but it also encourages plants to grow deeper roots, increasing hardiness.
Not sure how many cycles to run? About an hour after watering, push a long screwdriver into the soil. An area has been adequately watered if the probe easily slides to a depth of 6 to 8 inches. Scroll down to view plants that do well in Pantego or download our Gardening Guide (PDF).