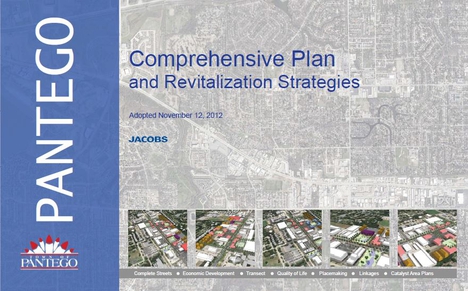 Comprehensive Plan
A comprehensive plan is a long-range plan intended to direct the growth, redevelopment, and physical development of a community for 5, 10, or 20+ years. At the beginning of 2011, the Town began the process of updating the plan, including stakeholder interviews and public meetings. The 2012 Comprehensive Plan was approved by Town Council on November 12, 2012, superseding the original 1976 Comprehensive Plan. 
Mission Statement
To provide quality services in a cost-effective manner.
Vision Statement
Pantego shall strive to be a premier community in which to live, work, and retire while maintaining our small-town atmosphere. 
Strategic Plan
The 2006 Strategic Plan is a dynamic set of goals, strategies, and objectives that incorporates the Vision and Mission (above) of the Town Council and provides a road map for the Town in the short term as well as acknowledging and setting the stage for long-term initiatives.
GOAL 1: Systematically Invest in Public Infrastructure

Improve Water and Sewer Infrastructure
Maintain and Improve Drainage Infrastructure
Maintain and Improve Roadway Infrastructure
Maintain and Improve Traffic Management

GOAL 2: Maintain the Integrity and Quality of Life Within the Town of Pantego

Review and Update Town Ordinances

GOAL 3: Promote Economic Development

Develop a Marketing Plan for the Town of Pantego

GOAL 4: Maintain and Enhance Town Services and Ensure Excellent Fiscal Management to Maintain Public Trust

Utilize Technology for Optimum Performance and Customer Service
Enhance Records Management System and Storage
Maintain and Enhance Website to Enhance Customer Service
Maintain and Sustain a Financially Sound Organization
Enhance Communications with Citizens and Business Owners of Pantego
PEDC Strategic Planning Workshop
In 2015, the PEDC Board engaged in a Strategic Planning Workshop but has not formally adopted a Strategic Plan.